List of the best free PR tools currently available online. Includes news syndication, free media lists, social sharing apps and methods of sourcing media opportunities.
By Rachel Wild ♦ Google+ ♦ Twitter.

Best Free PR Tools For PR Professionals And Business Owners
With a well constructed PR strategy, that ties in neatly with an ongoing social media strategy, it is possible to achieve tremendous audience reach for a modest outlay. The equivalent level of exposure via advertising would be cost prohibitive for most small to medium sized enterprises, (SME"s). But, press coverage will not only save businesses a considerable amount of money, it is also preferable to advertising for other reasons. Third party opinion is much more trusted than advertisements, and the placement of features and news items within a publication is usually much more prominent than paid content, which is often consigned to the periphery.
One of the key reasons why a well conceived PR strategy is so cost efficient is that there is a wealth of free online PR tools and resources that can support the PR process.
Finding Related News And Creating Archives
Google Alerts is one of the most commonly used tools for sourcing news items. An alert takes seconds to set up and conveniently delivers all of the breaking news, related to the search term specified, in a collated email. News items are listed with a brief description alongside links to the news source pages.
I love the simplicity of Google Alerts, but this service is not without its drawbacks. No images are provided and so the presentation is not particularly compelling, and, aside from setting up a custom label in Gmail, there's no efficient way of archiving the material in a truly straightforward way. Gmail labels are great in many respects, but they are not ideal for storing research material or for building of compendiums of news coverage.
This is where content curation and syndication platforms come to the fore, something that is especially true since the recent decommissioning of Google Reader, (July 2013).
Content Curation
There are a good number of free content curation tools, but the one that best suits the purposes of creating an ongoing archive of news items is Scoop.it. This powerful platform allows users to create topics and curate relevant material over time. There is an option to write an editorial introduction to each published item and social sharing to the major social media networks is supported. It is also synched with Buffer so that the sharing of material can be scheduled.
Perhaps one of the best features of the platform is the level of control that users have in presenting and modifying the content. Another is the way it is displayed. All of the items are presented in a magazine format and prominence is given to related images and headlines. News is dealt with chronologically, with opening paragraphs displayed alongside headers and stills. This means that information retrieval is a breeze. It only takes a matter of seconds to scroll down through the pages to locate a specific piece.
These features make a compelling case for using Scoop.it on their own, but when this is coupled with the fact that topics can attract followers, and suggested related material is also offered, using Scoop.it is a no-brainer!
This is a link to the compendium of Crowdfunding articles that I have been compiling using Scoop.it so that I may complete a major industry report on the subject over the next couple of months. It has been put together using the results of three Google Alerts that have been running for approximately three months.
The Listly platform can also be used for content curation purposes, but I prefer to use it for constructing lists of great online resources, like the one I've published at the end of this post. The list has been incorporated into this post using the free Listly WordPress plugin. Note; Listly is itself a fantastic free app and so it is also featured within the list.
No list of digital resources can ever be exhaustive, and this one certainly isn't. Technological advancements and innovation are increasingly disruptive, regularly offering new solutions to old problems. One of the real benefits of Listly is that it is a fluid format that permits regular updates over time. In addition, existing content can be edited to reflect new developments.
One of the best features of Listly is that new items can be added to lists by anyone. This avoids the potential for a duplication of effort. Instead of creating a new list for a topic that already exists, users can search for preexistant topics which they can then track by opting to follow the list. They can also contribute to it. Another great feature is the voting up system that allows featured items to rise to greater prominence based on the collective opinion of all that view and interact with the lists.
***If you would like to add a new resource to the list featured in this post then you can do so here. If you would prefer to make your suggestions without leaving this page, please add your well loved free PR tool in the comments section at the end of this post.***
News Subscriptions
Subscribing to news feeds is an excellent way of staying informed about vital developments.    This is why the decommissioning of Google Reader has caused so much consternation and panic. In fact, there is some speculation that RSS feeds will ultimately become redundant. Google's decision to withdraw support for several RSS dependent services is being seen, by some, as a death knell. There are, however, several free alternatives that more than adequately replace it that do not rely on RSS.
My preferred option is the very wonderful Feedly. This feature rich platform, that organises the material from preselected news sources in a much more convenient way than Google Reader ever did, is a joy to use.
Twitter, The Safe House for Print Media on the Net
Twitter is the most obvious social media platform to attract journalists, PR professionals and news consumers alike. For this reason it is an invaluable tool for developing media relations, monitoring what is topical, and finding media professionals that are researching their stories. Journalists are adept at tracking down their sources. Using hashtags such as #JournoRequest means that they can publicise their requirements in an highly targeted way. Locating and responding to an appropriate #JournoRequest is a very straightforward process. Prospective contributors can key the hashtag into the Twitter search query box followed by a specific topic. For example; #JournoRequest Crowdfunding. This delivers all of the relevant requests in chronological order allowing individuals to respond to current queries and using older posts for research purposes.
***It is not possible to explain in detail why Twitter is such an ideal format for PR within this post. Instead, I will be publishing a dedicated piece on this topic in the near future. If you would like to notified when this post is available please subscribe to this blog by submitting your email address in the top right hand corner of this page.***
Post Update: We're currently experimenting with BlogDash, a tool that allows users to search for content marketers based on specific criteria such as demographics and influence etc. Have you used this tool? Please let us know what you think of it in the comments.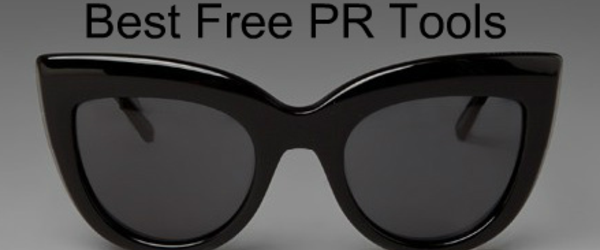 Best PR Tools
This list was initially created as '50+ Free PR Tools / Media Resources' list, but since its creation some of the tools have morphed into paid services. I have also recently added some fantastic tools that also come with a price tag, as they are just so good they really deserve to be listed..
Please note, most of the items listed remain free to use indefinitely..
Source: https://www.wilddigital.co.uk/best-free-pr-tools/